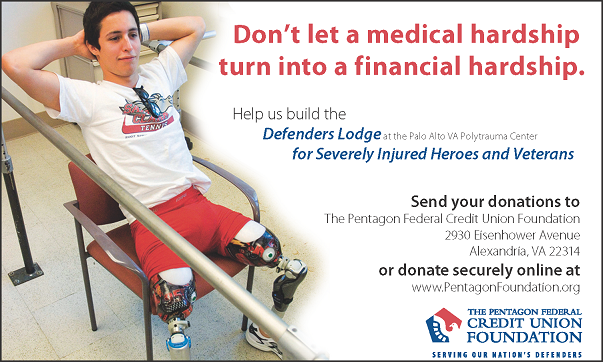 The Pentagon Federal Credit Union Foundation works nationally and locally to meet the unmet needs of our Nation's defenders. We serve all active-duty military, reserves, National Guard, Coast Guard, veterans and their immediate families, as well as employees of the Transportation Security Administration.
The mission of The Pentagon Federal Credit Union Foundation is to make the American Dream a reality for our Nation's defenders. We do this by providing safe alternatives to predatory lenders, grants to first time homebuyers and compassionate support for the wounded and ailing.
Our obligation as Americans is to ensure our heroes do not suffer hardships as a result of serving our country.
Major projects of The Pentagon Federal Credit Union Foundation over the past several years have included:
A hospice and grief counseling center at Walter Reed that allows patients and their families to be together during the critical final weeks

122 laptops (many voice-activated) and wireless networks at major military hospitals including Walter Reed, Brook Army Medical Center, Balboa Naval (San Diego),  Womack (Ft. Bragg), Tripler (Hawaii) and Darnell (Ft. Hood) which permit amputees and their families free, unlimited internet access

Emergency financial support for families visiting recovering servicemen

Thanksgiving and Christmas meals and toys for families at Walter Reed

Childcare for recovering servicemen at Ft. Meade and Walter Reed

Home renovation for amputees and wheel chair patients

As of July 2008, our Asset Recovery Kit program has helped more than 1,100 military families with $650,000 in no-interest cash advances and free financial counseling

Through our Dream Makers program, we have helped 49 eligible families buy their first homes with $243,000 in grants.
Our new major initiative is the construction of a $12.5 million lodge where wounded warriors and veterans can stay for free while receiving poly-trauma care at the VA hospital in Palo Alto, CA.
Give generously to support the wounded and their families.
Donations can be mailed to:
Military Heroes' Fund
2930 Eisenhower Avenue
Alexandria, VA 22314
Or donate online (click below)
The Pentagon Federal Credit Union Foundation is a 501(c)(3) nonprofit. Pentagon Federal Credit Union pays all administrative expenses. Every penny you give goes to programs.